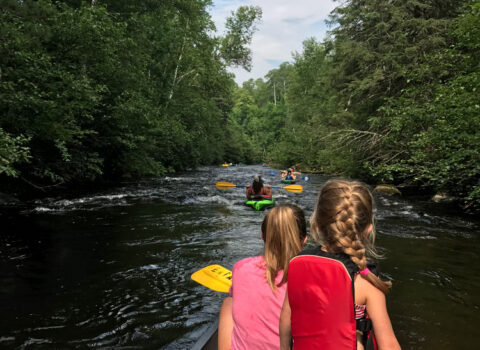 A2: Stone Bridges to Town of Brule-Intermediate 4-7 Hours

Stones Bridge to Brule, classified as our A2 trip is among our most popular day trips on the river. Stretching for 12.5 miles and an average group may take 5 to 6 hours to find the destination down at highway #2 in Brule.
This float is a combination of our 4 hour A1 and our 2 hour B1 trip. This splendid day trip includes everything, family and friends would want in an outdoor adventure. Scenery, history, abundant wildlife in addition to a taste of beginning whitewater. Hall's rapids, The Falls, Wildcat and Little Joe are among the more than one dozen class I and II rapids that are encountered on this 12 mile paddle.
Pass by the famous president's estate where president Calvin Coolidge ran the country in 1928 at Cedar Island enjoy a picnic or a swim on the more than 6000 acres of undeveloped state property. Big Lake and Lucius Lake are among the numerous sections of the river that widen to give generous views of both the wildlife and spectacular colors from afar.
See the beautiful 19th and 20th century homes and boat houses that have been preserved to hold their original character. Many of the homes have been passed on through the family generations to ensure the original preserve and character that defines this one-of-a kind river. One is humbled by the tranquility that the Brule River delivers and can see that preservation has been the staple for centuries.
We are happy to say that thousands come back year after year to carry on the rich family tradition of floating the Brule together but most of all we love to see the smiling faces of all ages that pursue the river. Since 1962, BRCR inc. has served hundreds of thousands of adventure seekers using our hassle-free shuttle service helping families, friends and non-profit groups to enjoy of one of the most pristine rivers in all of America.
You will come to find that our non-guided trips are a way to experience the river at your own pace. We provide the finest river canoes kayaks and equipment available today. If you own your own equipment, no problem, we have shuttle service for that as well. Come enjoy the "River of Presidents" with us.