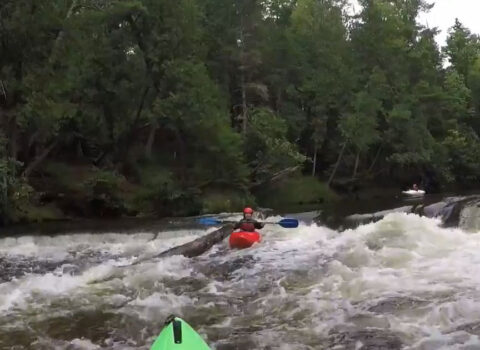 D2: Pine Tree to Hwy 13 Advanced Level 3-5 Hours

A unique adventurous 4 hours thrill stretches for almost ten miles on the lower section of the Bois Brule. Offering the most magnificent whitewater on the river, you will embark on the D2 trip starting at Pine tree canoe landing.
Whether you choose a canoe or a whitewater kayak, the crisp flow of the river begins as soon as your paddle hits the water. Dropping a magnificent 328 feet in elevation over the last 19 miles, this 9 mile section carries you through plentiful class 1, 2 and 3 rapids with almost 80 sets of rapids. You can expect to find roller, eddies, ledges and shoots that describe this whitewater experience.
Towering spruce, oak and pine trees line the steep river banks emersed in the rich red clay soil that colors the water after rainfalls. Like the rest of the river, wildlife is abundant in the Bois Brule State Forest.
Mays and Lenroot Ledges are two of the famous whitewater rapids on the trip that challenge the boaters and attract onlookers. Both can be exciting but challenging with their turbulent back rollers and ledges and shoots that shoot you quickly through these exciting sections. Mays Ledges have 4 drops that is an adrenalin seekers paradise.
The class 2 to 3 rapids are exciting for beginners to advanced paddlers seeking an exciting challenge. In the midst of this rapids is a large boulder otherwise known as the rock that stretches across almost across the entire river creating a perfect spot for photos, a picnic or just a place to soak up the sun. After you pass Mays Ledges the final stretch is relaxing meander down to the destination at Hwy 13 canoe landing. With very few houses, the quiet calm stretch that ends this trip is a nice reward.