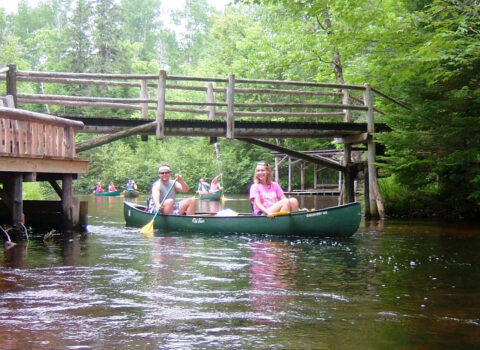 B1: Winneboujou to Town of Brule Intermediate Level 1-3 Hours

Stretching for 4 miles from Winneboujou to the town of Brule, the B1 float is very popular for all ages and all group sizes. This 4 mile section of the river is listed as an intermediate skill level, but a nice float if you and you're group won't mind the faster current.
Your paddle starts at Winneboujou with a brisk current flow to send you on your way. Hall rapids, Swift Water Farm rapids, Little Joe and Doodle Bug are among the many rapids that you encounter.
Giving you a taste of everything on this short 1-3 hour excursion, you will pass by towering Red and White Pines, pass under a picturesque walk bridge, go down the s-curve stone wall rapids of Halls Rapids and pass by the Bois Brule State Campground.
Bring along a snack and picnic and enjoy the many swimming holes along the way. This trip is a great way to enjoy the Brule in a short amount of time, or just an easy afternoon float. The float ends at the town of Brule.